Design, Integration and Optimization of IT Infrastructures
The design of an infrastructure is a strategic action that aims to put in place the foundations and the basic structures of the information system of a company or a governmental institution.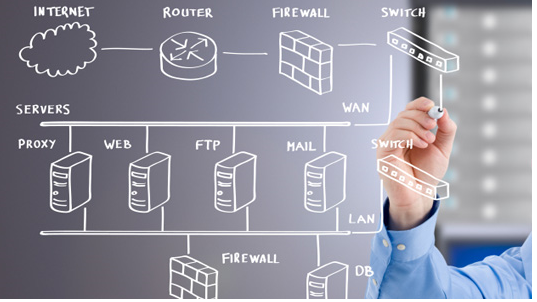 It is involved in projects for integrating new user services, deploying new applications, migrating computer systems or consolidating environments.
The modeling of a technical infrastructure must meet many challenges:
Increase the performance of the information system,
Guarantee the scalability of infrastructures,
Ensure optimal availability of the applications and services offered,
Mutualize environments,
Securing access to architectures,
Control integration and administration costs,
Increase the quality of service.
i-CRITS sarl offers a solution covering all the key actions of the design, integration, and optimization of an IT infrastructure:
The audit of IT environments;
The study of target architectures;
Advice and technology watch;
Optimization of computer systems;
The definition and formalization of technical implementation specifications;
Drafting systems integration procedures;
Definition of deployment strategies;
Accompaniment and/or implementation of architecture migrations.
We provide our clients with all the essential assets for the success of their projects, namely:
A high level of expertise;
A know-how and a quality approach;
Packaged offers based on best practices;
Control of means and qualified resources;
Knowledge capitalization and sharing;
Many references and feedback;
Partnerships with the main publishers on the market.
Our areas of intervention in the Design, Integration and Optimization of IT Infrastructures cover: